Calendula (Calendula officinalis)
Main Facts about Calendula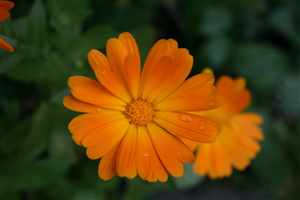 Calendula is an annual or biennial aromatic plant native to areas around the Mediterranean. It is a branching plant, 1 to 2 feet tall with lance-shaped leaves and stems covered with fine hairs. Calendula has large daisy-like flowers in golden yellow or orange. It blooms from June to September or first frosts. Parts used – flower petals and leaves.
Calendula's name refers to its tendency to flower by the calendar, once a month, usually during the new moon. "Marygold" refers to the Virgin Mary.
In ancient Rome, the herb was used to make a broth that was said to uplift the spirits. Early Greeks and Romans drank Calendula tea to relieve stomach ailments, and they applied the herb externally as a poultice to treat superficial skin wounds. In India, the bright flowers decorated the altars in Hindu temples.
In medieval times the remedies made from Calendula flowers treated intestinal problems, liver complaints and insect and snake bites. The dried flowers were added to soup and stew pots (hence the name Pot Marigold) to help keep off illness. Calendula was said to protect against evil influences and disease including the plague. It has also been used as a dye for food, fabric, and cosmetics.
Using Calendula
Calendula flowers are astringent and antiseptic and taken internally are excellent for enhancing the immune system and treating a wide variety of infections, including flu and herpes viruses; fungal infections such as candida; and pelvic and bowel infections including enteritis and worms.
A tea made from the flowers or a tincture made from the entire plant can ease inflammatory digestive conditions such as gastritis, colitis, and peptic ulcers. Calendula reduces the inflammation that causes pain in these disorders. Calendula has a strong bactericidal effect that may counteract gastritis and peptic ulcers. Calendula and Comfrey taken together may have a healing effect on duodenal and peptic ulcers.
Calendula washes are useful in treating chronic conjunctivitis.
Calendula tea can also be taken as a mouthwash or gargle to treat mouth and throat inflammation. If your gums become prone to bleeding, try a strong infusion of the flowers as an antiseptic mouthwash.
A mild infusion can be used as a douche to treat vaginal yeast infections.
Externally, Calendula is popular as a first-aid remedy for cuts and abrasions, sores and ulcers, burns and cold sores, to relieve rashes and irritation, to halt bleeding, reduce infection and speed healing. Calendula cream, ointment or infused oil are traditionally rubbed into aching or itchy hemorrhoids and varicose veins, and bring relief to cracked nipples. Calendula-growing This plant, sometimes listed as Marigold, is an ingredient in many personal-care products. Used in hair rinses, Calendula brings out gold highlights.
For hemorrhoids, varicose veins and cracked nipples, apply Calendula cream, ointment or infused oil to the affected area 3 times a day; the infused oil is preferred for use on the nipples if you are breastfeeding, as it is safe for your baby to consume in small quantities. For bleeding gums, prepare a strong infusion of dried Calendula, and use it as a mouthwash after brushing your teeth.
Calendula is a remedy for: Hemorrhoids
Cooking with Calendula
Both the leaves and flowers make an excellent addition to soups and salads. Calendula petals make colorful additions to green salads and have been used as an economical, though less vividly colored, substitute for Saffron in cheese, rice dishes, and soups. Calendula leaves can be eaten raw, but some people find their flavor unpleasant. The dried, powdered herb also can be used as a food coloring.
Calendula tea: pour 1 cup boiling water over 2 tsp petals, steep for 10 min. Strain. Use as needed as a mouthwash, gargle, or tea.
How to grow Calendula
Calendula is an annual that is very easy to grow from seed. Sow seeds in spring or fall in moist, medium-rich soil and full sun. Plants will tolerate partial light shade. They prefer a moderately fertile, well-drained soil. Seeds will germinate in 7 to 14 days. Thin seedlings to 6 to 12 inches apart. In hot summers, Calendulas usually cease flowering. Regular deadheading will help to prolong flowering.
Calendula self-seeds readily, so remove the dead flower heads immediately to prevent excessive self-seeding and to extend the flowering period.
For culinary or medicinal use, harvest the flowers when the plant is dry, then remove individual petals and dry them on paper in the shade. Spread the petals in a single layer, not touching one another, to avoid discoloration. Store the dried petals in an airtight container.