Gentian (Gentiana lutea), Wild gentian, Yellow gentian
Main Facts about Gentian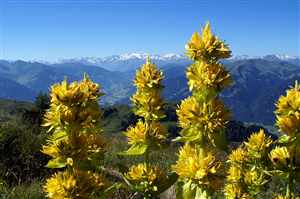 There are over 400 varieties of Gentian with different colored flowers etc. Gentian is a perennial herb that has opposite leaves and trumpet-shaped flowers that are yellow ororange. The root, which can be over 5 cm (2.0 in) thick and has few branches, is harvested in the autumn and dried for later use. It is common in the mountains of central and southern Europe - Alps and Himalayas, Spain and the Balkans. Also, Gentian is widely cultivated in China. The plant is now rare and protected in its native habitat.
Using Gentian
A famous "bitter" for digestive disorders, the gentians have been used for centuries to stimulate appetite, improve digestion, and treat a variety of gastro-intestinal problems (heartburn, vomiting, stomach ache, diarrhea etc.). Stemless gentian usually is consumed as a tea or alcoholic extract, such as Angostura bitters. The extracts are used in a variety of foods, cosmetics, and some antismoking products. The plant has been used externally to treat wounds, and internally to treat sore throat, arthritic inflammation, and jaundice. Great for anemia. Said to be good for restoring people who have a weak digestive system and just don't want to eat anymore.

Gentian is a remedy for: Cold and flu, Arthritis
Cooking with Gentian
The dried root is the most commonly used part, but fresh above-ground parts can be used also.
How to grow Gentian
Gentian grows in grassy alpine and sub-alpine pastures, usually on calcareous soils. Old plants have large crowns, which may be divided for the purpose of propagation, but growing it on a large scale, seeds would be the best method. Plant Gentian in acidic soil and part shade. A strong, loamy soil is most suitable, the deeper the better, as the stout roots descend a long way down into the soil. Plenty of moisture is also desirable and a position where there is shelter from cold winds and exposure to sunshine. Sow tiny seeds in fall for spring seedlings. Space 2 feet apart in garden. It flowers 3 to 4 feet tall. They take about three years to grow to flowering size.
Gentian Toxic Look-alikes
White hellebore (Veratrum album)