Grapes (Vitis)
Main Facts about Grapes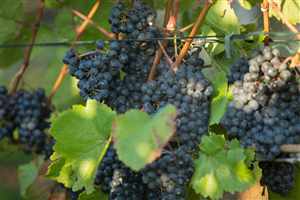 Wild grapes grow everywhere and they are edible, both the berries and the leaves. They come in green, black, purple, red, and white, clustered in bunches. There are about 60 species native to the north temperate zone, including varieties that may be eaten as table fruit, dried to produce raisins, or crushed to make grape juice or wine.
Using Grapes
Grape is a highly valuable source of phytochemicals bioflavonoids composed of polyphenols that destroy free radicals, double blood vessel strength, improve circulation, joint flexibility, defend collagen destruction, varicose veins, hemorrhoids, protect brain cells and slow the aging process. They help destroy disease-causing viruses, bacteria, cancer. Excellent and effective cleansers for skin, liver, intestines and kidneys. They discourage the formation of mucus in the gut. High in magnesium, stimulates kidney and bladder, soothing to nervous system, dark grapes are high in iron. used for stomach issues, liver problems, digestive issues like diarrhea, rheumatism etc. One important nonbioflavonoid in grape skin is called resveratrol.

Grapes is a remedy for: Anxiety
Cooking with Grapes
Grape leaves are a year-round source of food, so even if the grapes themselves are not in season, the leaves are just as edible. Leaves can be eaten raw, used in salads, smoothies and are made into tea for nutrition. All grapes are edible, but make sure there are multiple seeds inside.
How to grow Grapes
Grapes are adapted to a wide range of soils, ranging from blow sands to clay loams, from shallow to very deep soils, from highly calcareous to noncalcareous soils, and from very low to high fertility. Commercial grape varieties are propagated with cuttings, segments or canes, or grafts.
Grapes Toxic Look-alikes
Avoid grape-like plants with only one seed, these are Moonseed and are poisonous. The leaves of moonseed are not toothed like grape leaves and the fruit is black.