Rooibos (Aspalathus linearis)
Main Facts about Rooibos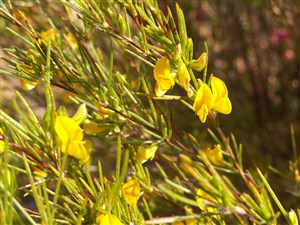 Rooibos is a shrub, up to 6 feet tall, with needle-like leaves and small, yellow flowers. It flowers in midsummer. Parts used – leaves and stems.
Rooibos is a plant native to the Western Cape of South Africa. About three centuries ago, the indigenous people of the region started producing a sweet, satisfying tea from the bush's needlelike leaves and stems. The Afrikaans name "rooibos" means "red bush".
Commercial cultivation of the plant began in South Africa in the 1930s, and today most Red Bush Tea is grown in the country's Cederberg region north of Cape Town.
It is called a "red" tea for the color produced through oxidation, which occurs, when the green leaves are crushed, bruised, moistened, and put in piles to dry.
Using Rooibos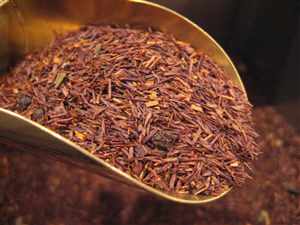 Traditionally, Rooibos has been used to soothe digestion, relieve stomach cramps, colic, and diarrhea, and to treat allergies and asthma.
As a fresh leaf, Rooibos has a high content of ascorbic acid. The plant is rich in antioxidants, minerals, and vitamin C and has antiviral properties. It may also help boost immune system and provide cardiovascular benefits by reducing oxidative stress on the body. Studies in this area are ongoing.
Cooking with Rooibos
Rooibos tea is caffeine-free and has low tannin levels compared to black tea or green tea. It is becoming increasingly popular as a substitute for tea. When brewed, the leaves produce a vivid red infusion. South Africans usually drink Rooibos with lemon and sugar or honey, although the herb has a natural sweetness. It can be prepared as a hot or iced tea.
Several coffee shops in South Africa have recently begun to sell red espresso. This has given rise to rooibos-based variations of coffee drinks such as red lattes and red cappuccinos.
How to grow Rooibos
Rooibos is difficult to grow outside of its native habitat in South Africa. The shrub requires well-drained, sandy, acidic loam and full sun.